Dear Patriots, Our first item today is not GOOD news. It is GOOD TO KNOW NEWS. 1- This podcast will teach you more history about Cuba and Hong Kong than you have ever been taught. Megyn Kelly gives these two gentlemen ample time to lay out what has happened in these two counties. You will recognize […]

Dear Patriots, The middle of the week, in the middle of summer, in the middle of the year.  In the middle of a battle to save our country.  Pray, read, share. 1-  This show down in the Senate was a thing of wonder to watch. Thank you, Senator Rand Paul, for being the only person in the […]

Dear Patriots, There are days when someone says, "Boy, this is a slow news day. Not much is happening." We say, "Balderdash! There is never a slow news day!" What we DO have is: Day after day of the Mainstream/Drive By/Fake News cabal that ignores, stifles, and de-platforms the real news that is happening on a […]

Dear Patriots, Honestly, it was a bit of a challenge finding the good news for this week's Good News Friday. A line from a very, very, very old song kept playing in our heads. "Bad news on the doorstep, I couldn't take one more step." (American Pie-1971) There is much difficulty and uncertainty happening in our […]

Dear Patriots, Sometimes we can share with you short bits of news because that is all you need to know about a story. Sometimes we need to dig a little deeper. Today, we are sharing two longer articles that go into a lot of detail. We have pulled some of the "money quotes" but, we […]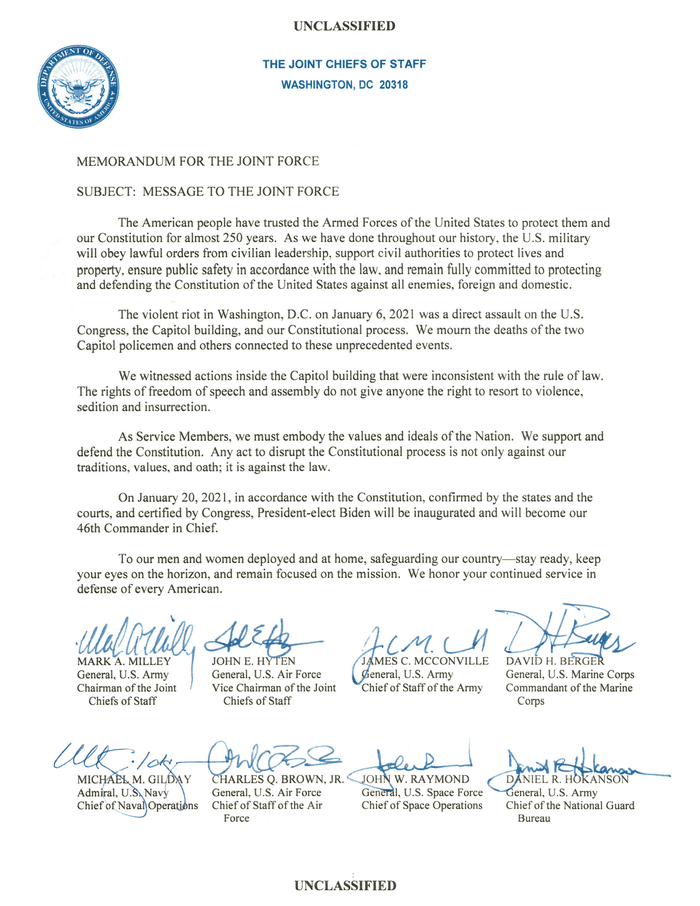 I will say this: based on the memorandum put forth by this group of traitors. They state that what took place in DC was a violation of our Constitution, however, THEY have allowed the most egregious violation in the history of our Country to take place and done NOTHING.
By allowing election interference which involved treason at the highest levels of our government, working along side foreign countries, to change the outcome of an election – OUR election – and put forth a government that is not FOR THE PEOPLE, BY THE PEOPLE – THEY have violated their oath to uphold the Constitution of the United States from enemies both foreign and domestic.
Now – IF THAT isn't a violation of our Constitution I don't know what is. It certainly isn't a bunch of Patriots standing up for ourselves in DC against a tyrannical government as that is EXACTLY what our forefathers told us we should do.
Know this, "IF" POTUS allows this and does not take action – WE THE PEOPLE must stand up immediately and take this Country back.
For God and Country.
MilSpec Ops Monkey
First Lady Melania Trump: Our Path Forward
Date 1/11/2021
Like all of you, I have reflected on the past year and how the invisible enemy, Covid-19, swept across our beautiful country. All Nations have experienced the loss of loved ones, economic pain, and the negative impacts of isolation.
As your First Lady, it has been inspiring to witness firsthand what the people of our great Nation will do for one another, especially when we are at our most vulnerable.
With nearly every experience I have had, I found myself carrying many individual's stories home with me in my heart.
Most recently, my heart goes out to: Air Force Veteran, Ashli Babbitt, Benjamin Philips, Kevin Greeson, Roseanne Boyland, and Capitol Police Officers, Brian Sicknick and Howard Liebengood. I pray for their families comfort and strength during this difficult time.
I am disappointed and disheartened with what happened last week. I find it shameful that surrounding these tragic events there has been salacious gossip, unwarranted personal attacks, and false misleading accusations on me – from people who are looking to be relevant and have an agenda. This time is solely about healing our country and its citizens. It should not be used for personal gain.
Our Nation must heal in a civil manner. Make no mistake about it, I absolutely condemn the violence that has occurred on our Nation's Capitol. Violence is never acceptable.
As an American, I am proud of our freedom to express our viewpoints without persecution. It is one of the paramount ideals which America is fundamentally built on. Many have made the ultimate sacrifice to protect that right. With that in mind, I would like to call on the citizens of this country to take a moment, pause, and look at things from all perspectives.
I implore people to stop the violence, never make assumptions based on the color of a person's skin or use differing political ideologies as a basis for aggression and viciousness. We must listen to one another, focus on what unites us, and rise above what divides us.
It is inspiring to see that so many have found a passion and enthusiasm in participating in an election, but we must not allow that passion to turn to violence. Our path forward is to come together, find our commonalities, and be the kind and strong people that I know we are.
Our country's strength and character have revealed themselves in the communities that have been impacted by natural disasters and throughout this terrible pandemic that has affected all of us. The common thread in all of these challenging situations is American's unwavering resolve to help one another. Your compassion has shown the true spirit of our country.
As I said over the summer, it is these defining moments that we will look back and tell our grandchildren that through empathy, strength, and determination, we were able to restore the promise of our future. Each of you are the backbone of this country. You are the people who continue to make the United States of America what it is, and who have the incredible responsibility of preparing our future generations to leave everything better than they found it.
It has been the honor of my lifetime to serve as your First Lady. I want to thank the millions of Americans who supported my husband and me over the past 4 years and shown the incredible impact of the American spirit. I am grateful to you all for letting me serve you on platforms which are dear to me.
Most importantly, I ask for healing, grace, understanding, and peace for our great Nation.
Every day let us remember that we are one Nation under God. God bless you all and God bless the United States of America.
Sincerely,
Melania Trump
FOR IMMEDIATE RELEASE July 23, 2021WEEKEND GUIDANCE FOR THE VICE PRESIDENT FOR SATURDAY, July 24, 2021 AND SUNDAY, JULY 25, 2021 The Vice President will be in Washington, DC. The Vice President has no public events scheduled.###Privacy Policy (https://www.whitehouse.gov/privacy/) | Unsubscribe (https://whitehouse.us19.list-manage.com/unsubscribe?u=0 ae7 f75 ebacfaef55 ba39 fcdb&id=f7 bd3987 f2&e=03170 f3608&c=d4067 f1931)===========================================================…

FOR IMMEDIATE RELEASE July 23, 2021WEEKEND GUIDANCE FOR THE VICE PRESIDENT FOR SATURDAY, July 24, 2021 AND SUNDAY, JULY 25, 2021 The Vice President will be in Washington, DC. The Vice President has no public events scheduled.###Privacy Policy (https://www.whitehouse.gov/privacy/) | Unsubscribe (https://whitehouse.us19.list-manage.com/unsubscribe?u=0 ae7 f75 ebacfaef55 ba39 fcdb&id=f7 bd3987 f2&e=4 c51528 d09&c=d4067 f1931)==========================================================…

The White House Logo FOR IMMEDIATE RELEASE July 23, 2021Readout of President Joseph R. Biden, Jr. Call with President Ashraf Ghani of Afghanistan President Joseph R. Biden, Jr. spoke today with President Ashraf Ghani of Afghanistan. President Biden and President Ghani discussed the situation in Afghanistan and reaffirmed their commitment to an enduring bilateral partnership. […]

The White House Logo FOR IMMEDIATE RELEASE July 23, 2021Readout by NSC Spokesperson Emily Horne of National Security Advisor Jake Sullivan's Meeting with Iranian-American Journalist and Activist Masih Alinejad National Security Advisor Jake Sullivan met today with Iranian-American journalist and activist Masih Alinejad and her husband Kambiz Foroohar. During the meeting, Mr. Sullivan expressed concern […]